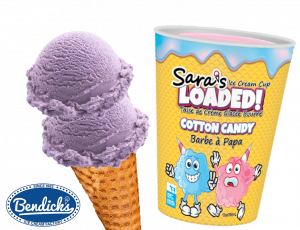 Local Vancouver Ice Cream Factory since 1982
Bendick's Ice Cream Factory manufactures premium ice cream and ice cream cakes in small batches. They recently launched two new products: Premium Ube Macapuno 5.7L & Cotton Candy Cups.
Premium Ube Macapuno 5.7L: The creamy combination of young coconut & our best-selling purple yam will leave people wanting more! Available for both Alberta & B.C Scoop Shops.
Cotton Candy Ice Cream Cups: Two of the best carnival foods in one – cotton candy and ice cream. Available as a 12oz cup in Canada!