TransCold Distribution is a mobile vending "One Stop Shop" for all your ice cream needs. We offer competitive pricing, strong brands, eye catching POS & excellent service.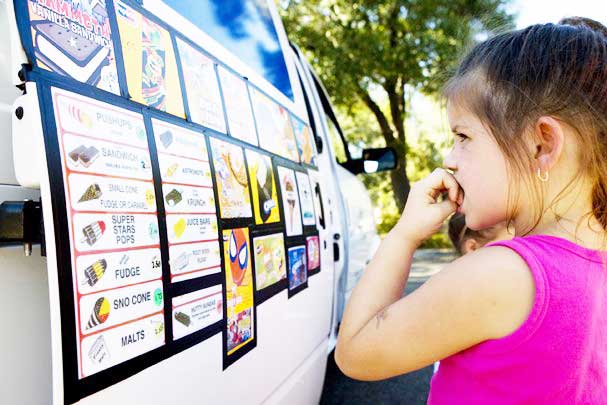 Only the Mobile Vending Best Brands
A key to success in the ice cream truck business is repeat customers. You will get repeat sales by relying on high quality branded ice cream that keeps your customers coming back for more.
Get Started in Mobile Vending
If you are interested in starting your own mobile ice cream business and you want to make those ice cream sales, then TransCold Distribution provides the perfect partner to supply and retail your ice cream products. TransCold carries a wide variety of frozen novelties to suit every event type and budget, including dairy free and lighter options. 
We can't wait to talk with you, so don't delay in contacting us. Remember, ICE CREAM MAKES EVERYTHING BETTER! Talk soon.
Order anytime! Once your account has been created, you'll be able to see your full product assortment and place an order at your convenience
Helpful Mobile Vending Staff
You will have a dedicated and experienced customer service rep to help you through placing your order.
There is no minimum order if you pick up from one of our depots. Minimums or delivery fees are only in effect for delivered orders and vary by location.
TransCold supplies eye catching display boards and product stickers for your truck. Our branded point of sale items feature bright colours and instantly recognizable logos. This creates excitement and draws customers in.
Cash & Carry for Mobile Vending
Forgot to place your order in time? If you are located near one of our Cash & Carry locations, you may be in luck! They carry a wide range of discount products, open to the general public. Stock will, however, vary by day.
Advice for Ice Cream Mobile Vendor Beginners
So you want to be the ice cream man. Congratulations on fulfilling your childhood dreams and joining an amazing community. It's a great way to run your own profitable business, but it is not without challenges. These are a few things to keep in mind to start things off right.
Licenses vary from city to city, but are required by most. We recommend that you contact your local city hall for details. 
As a rule of thumb, there is a lower barrier of entry for novelty trucks than scooping. Novelty trucks sell only pre-packaged items and typically do not require running water, contrary to scooping into cones. We have a wide variety of pre-packaged frozen novelties.
Obtaining an Ice Cream Truck & Freezer
Before you get started, you will need an ice cream truck, bike or push cart. We do not have ice cream trucks for sale or rent, but we can provide you with a referral and discuss your options. 
We do occasionally have freezers available for sale, and plenty of expertise to offer. Make sure you research the best type of freezer and power source for you. Contact us for information.
Your customer's safety is your responsibility. It should always be your number one priority. Take any and every precaution necessary because your main clientele are children. Use common sense and remember that you are responsible for the life of your customers. At minimum, stay alert and never drive in reverse.
Check out the IAICDV website to get more information regarding safety.
There is nothing more iconic than the universally recognized "ice cream song". However, be aware that many cities have ordinances against playing music. Always check with your city first.
Repeat customers are the key to your success as a mobile vendor. High quality, premium branded ice cream and great service is a great way to keep your customers coming back every day.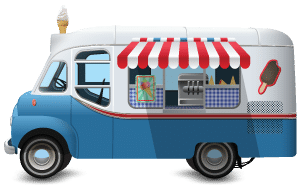 This is not legal advice; always check with your local governing body because bylaws vary from city to city.