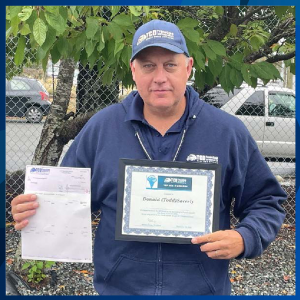 Chosen from 37 nominees, Todd Sacerty, our Nanaimo Route Driver is TransCold's Q3 Winner of our "Everything is Popsicle" Quarterly Award recognizing exceptional employees!
Todd has been part of our team for nearly three years now. Todd's remarkable flexibility, unwavering dedication, and willingness to go above and beyond in ensuring our customers are well-served make him a key asset. Whenever the team needs assistance or faces unexpected challenges, Todd is the reliable go-to driver on Vancouver Island. This summer, he juggled the demands of covering other drivers' absences and navigated through Port Alberni forest fire road closures. Todd's dedication to his job, delivered with a constant smile, sets a remarkable standard. Congratulations, Todd, on this well-deserved award!
Stay tuned for our next winner in Q4! All Canadian employees are eligible… let us know who you think should be nominated next.