Ice Cream
Equipment & POS
Not only does a partnership with TransCold Distribution provide you exclusive access to the most popular ice cream products in the world, we can also provide freezer equipment and promotional materials from all our brands to create buzz and pull in customers.
No matter the format of your store, we have something that will fit and provide proven sales.
Our Promise to You and Your Freezer to: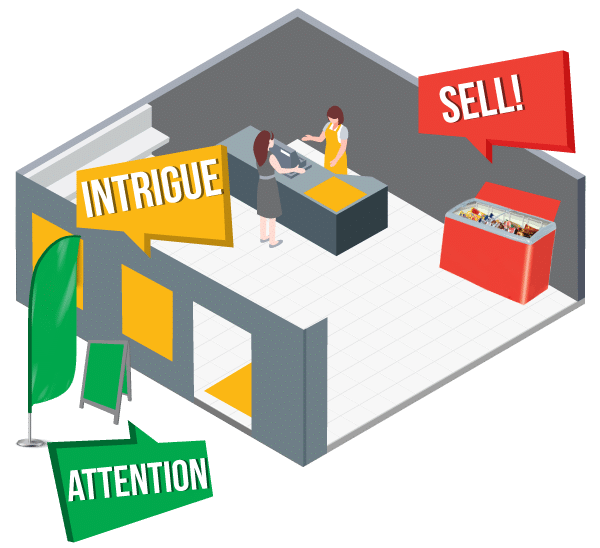 Point of Sale Branding Materials
Your store deserves perfect merchandising! Attractive merchandising drives customers to the freezer cabinet, ensures they buy your ice cream, and keeps customers coming back again and again.
We can help you capture those impulse purchases because our POS triggers that desire. Ice Cream is an impulse driven category. Making Ice Cream available and visible is key to capturing customer's attention and increased sales. 
Maximize sales with merchandising
TransCold actively partners with our customers to improve sales through effective merchandising techniques. We work with you to help you execute the "Perfect Store" – a proven approach that sets our standards for product mixes and merchandising.
Our POS uses irresistible, mouth watering imagery to drive these impulse purchases in your stores! These are our three pillars to the perfect store – you can achieve it with our help.
Our Promotional Materials
A-Frame Signs & Flags
Wall Ads & Posters
Window Ads & Clings
Freezer Shoutboards
Inflatables
Penny Dishes & Wobblers
Menu boards
& Much More!
Freezer Equipment FAQs & Best Practices
Following these freezer equipment tips can help prevent the most common problems with freezer performance. If you DO experience problems, contact us for help. If you own your freezer independently, you can also contact TransCold Services for assistance.
Novelty Freezer Equipment Options
Specialty Freezer Equipment Options
*Freezers are subject to availability, which may vary by territory. Branding and artwork on freezer will vary by availability.