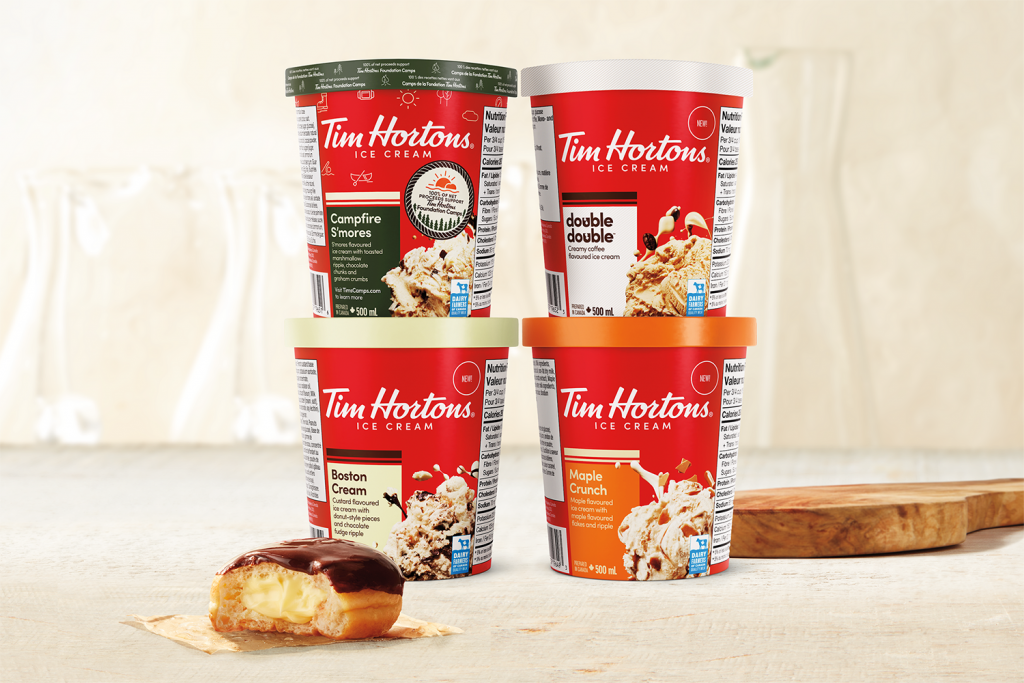 Tim Hortons is back with FOUR new flavours for their ice cream pints: Boston Cream, Double Double, Maple Crunch, and Campfire S'mores. Like their previously launched ice cream flavours, these new flavours are made in Canada with 100% Canadian dairy in partnership with Ontario-based ice cream producer Shaw's. Check out each flavour below and contact your sales rep to get a taste of these delectable flavours in Canada!
Boston Cream Ice Cream: Custard flavour, with bites of donut pieces, and swirls of chocolate fudge ripple. 
Double Double™ Ice Cream: A true Canadian classic, this ice cream features the rich and smooth flavours of Tim Horton's Original Blend coffee paired perfectly with creamy and sweet accents.
Maple Crunch Ice Cream: Rich maple flavour, with maple-flavoured crunchy flakes and ripple.
Campfire S'mores Ice Cream: Toasted marshmallow-flavoured ice cream, chocolate ripple and crushed Graham crumbs. What makes this flavour better is that 100 percent of net proceeds will be donated to Tim Hortons Foundation Camps to support youth from underserved communities!