At Talenti, they put a lot of care and time into crafting their gelato and sorbetto – from choosing ingredients, recipes, and methods, everything is a long process, and it really shows through their addicting and super creamy gelatos and sorbettos! We are excited for these three new gelato flavors available for our U.S Market! Check them out!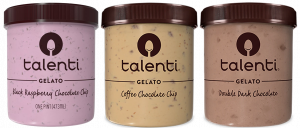 Black Raspberry Chocolate Chip Gelato: Combines black raspberries from a father-daughter run raspberry farm in Oregon with rich chocolatey chips, blending together the best of both tart and sweet.
Coffee Chocolate Chip Gelato: Slow cooked fresh milk, cream, and semi-sweet chocolate chips with coffee sourced from Brazil and Colombia to give this Coffee Chocolate Chip Gelato a unique twist. 
Double Dark Chocolate Gelato: Blended with semi-sweet chocolate morsels and a dash of vermouth.