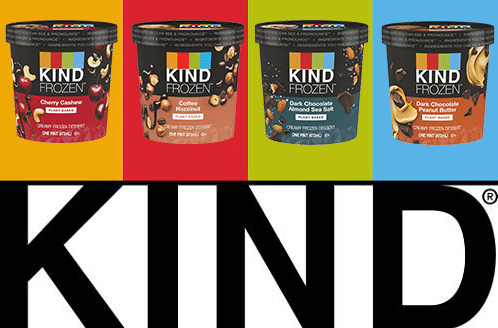 Pints are not Kind's only new product this year. We are expanding their frozen bar offering to include Dark Chocolate Almond Sea Salt! This Kind frozen bars is a plant-based frozen treat made from almond milk, layered with smooth dark chocolate, chopped almonds, and nut butter.
Contact your sales rep for more information. Available in Southern California, Oregon, and Washington.
Be Kind to yourself this year!
Kind first entered the frozen market in 2020 with a frozen bar, which was such a success, they have now entered the realm of 'ice cream' pints with a plant based option. As with all Kind products, their pints are wholesome, delicious and healthy with ingredients you will recognize.
We are introducing 4 Kind pint flavors including Cherry Cashew, Coffee Hazelnut, Dark Chocolate Almond Sea Salt, and Dark Chocolate Peanut Butter. These products are plant based with only 10g added sugar and are just 190-250 calories per serving.