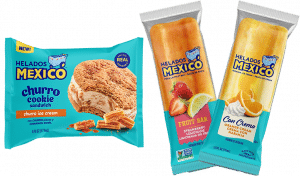 Explore the vibrant flavors of Latin America! You can't wait to try these THREE new Helados Mexico single serve ice cream products for our U.S market!
Churro Cookie Sandwich: Featuring decadent churro cookies, sandwiched around creamy ice cream packed with irresistible pieces of churros. 
Strawberry Lemonade Fruit Paleta: Savor the vibrant and refreshing flavors of with this Mexican-inspired Strawberry Lemonade Paleta, a frozen treat that brings a flavor fiesta. Gluten free, no artificial colors, no high fructose corn syrup, non-GMO. Available for our SoCal market only.
Orange Cream Paleta: Pure nostalgia with this Orange Cream Paleta, reminiscent of a classic favorite that brings back memories of carefree summer days! Gluten free.