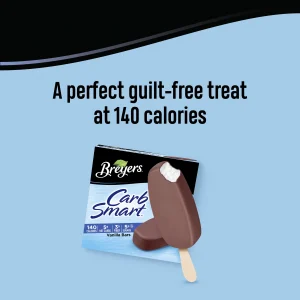 Breyers USA is out with THREE new ice cream pints/tubs and a new multi-pack product! 
CarbSmart Vanilla bars: If you are watching your sugar/carb intake, CarbSmart Vanilla bars are only 140 calories, 5g net carbs, 5g sugar, and 3g of fiber! This delicious vanilla frozen dessert bar dipped in chocolate will really help you curb those cravings! Available to all U.S. customers!
Heath English Toffee 16oz Pint: Ice cream loaded with 100% real Heath Toffee candy pieces! Every bite is packed these delicious crunchy bits! Available to all U.S. customers.
Butter Pecan 16oz Pint: We had it as a tub and now available in pints! Pecans roasted in butter and then swirled in vanilla ice cream to give you a delicious-tasting dessert. Available to SoCal customers.
Natural Strawberry 48oz Tub: Sun-ripened California strawberries swirled around in delicious Breyers ice cream! Available to SoCal customers.