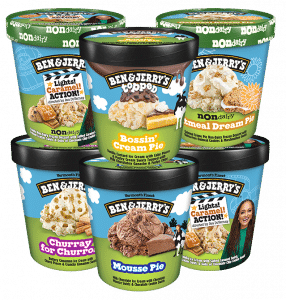 Ben & Jerry's U.S. has an exciting collaboration with Award-Winning Filmmaker Ava DuVernay!
Lights! Caramel! Action! features vanilla ice cream with salted caramel swirls, graham cracker swirls, and chocolate chip cookie dough in both dairy ice cream and almond milk based non-dairy versions. More importantly, the proceeds of this collaboration benefit Ava DuVernay's non-profit ARRAY Alliance that is dedicated to supporting artists of color and women that wish to work in the arts and film industry.
We have also introduced 2 other traditional ice cream pints: Churray for Churros, and Mousse Pie; a non-dairy Oatmeal Dream Pie; and Topped Bossin' Cream Pie!  Contact us to order and get them while they're cold!