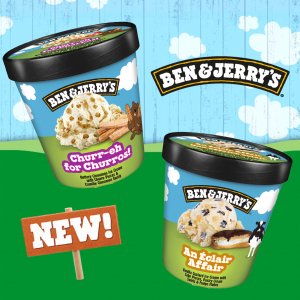 New Canadian-inspired Flavours
 Ben & Jerry's premium ice cream is proudly made with Canadian dairy, Non-GMO sourced ingredients, and Fairtrade sugar, cocoa, vanilla, etc. Delicious ice cream made in a socially and environmentally responsible way is the best kind of ice cream! Ben & Jerry's Canada has launched two new ice cream innovations exclusive to nostalgic Canadian flavours: 
Churr-eh for Churros: Buttery cinnamon ice cream with churro pieces and crunchy cinnamon swirls.
 An Eclair Affair: Vanilla custard ice cream with cake pieces, pastry cream swirls, and fudge flakes.
Contact us to order! Available for our Canada market only.