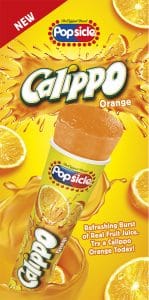 Popsicle Calippo Orange
Popsicle's new Calippo Orange ice pops is the perfect on-the-go sweet treat! Just squeeze the ice pop for a refreshing burst of orange flavour. This is the perfect way to enjoy that summer feeling all-year round! Now available for our Canadian customers! Contact your sales rep to order!
Fun Fact: Did you know the very first Popsicle ice pop was created way back in 1905 by an 11-year-old named Frank Epperson? Frank left a cup of soda with a stirring stick in it out on the porch. The next morning he found his drink frozen like an icicle! Then the rest is history!