Chapman's offers many different options regardless of dietary needs: from rich, real-dairy ice creams to lower calorie, gluten free, lactose free, peanut free, nut free and no sugar added. We're introducing their new line up for 2022! (available to our British Columbia customers)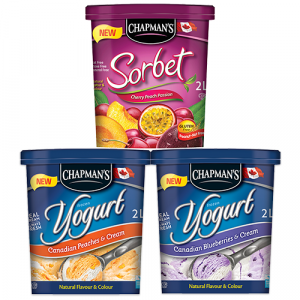 We are excited to introduce new fruity flavours from Chapman's Frozen Yogurt and Sorbet line! If you're looking for a healthy option that's as rich and creamy as your favourite ice cream, pick up a tub of Chapman's Frozen Yogurt, now available in Peaches & Cream and Blueberries & Cream. If you're more of a sorbet fan, try the new Cherry Peach Passion, made with natural fruit juices and purees. Chapman's Sorbets are lactose free, peanut free, nut free and gluten free.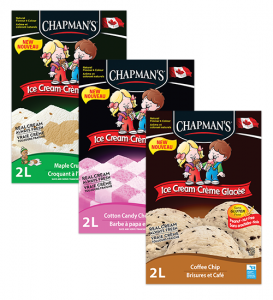 Produced with 100% Canadian Dairy to deliver the rich creaminess you grew up with, the Original line is available in a variety of classic flavours in a traditional 2L box. These three new flavours come in: Coffee Chip, Cotton Candy Checkerboard, and Canadian Maple Crunch. Which one of these original treats are you eyeing?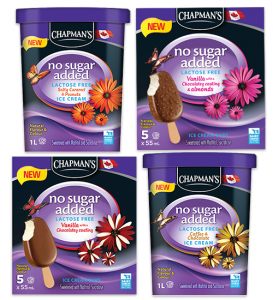 This collection is great for a low sugar diet and those watching their sugar intake. Still made with 100% Canadian Dairy, this line is sweetened with Maltitol and Sucralose (also known as Splenda®). Now available as Vanilla ice cream bars (in a Chocolatey Coating, and with Almonds), and in pints (Salty Caramel & Peanuts and Coffee & Chocolate)!
.