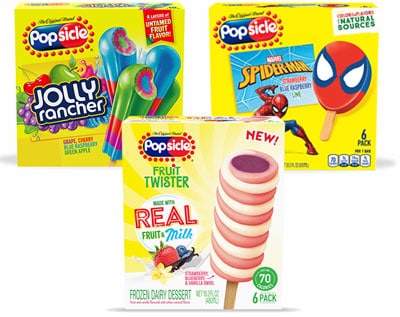 Popsicle has a fruity medley of new products for 2021! Previously available in single serve sizes, these flavors are now available in multipack for your customers to take home and enjoy later.
The Strawberry, Blueberry & Vanilla Swirl Twister are made with real fruit and real milk, made fun. Jolly Rancher pops feature the UNTAMED fruit flavors of the popular candy. And Spiderman will get your taste buds a-tingling with the strawberry, blue raspberry and lime flavors. Perfect for cool off during a warm summer day.
Contact your sales rep for more information. Twisters are available in Southern California, Oregon, and Washington; Jolly Ranchers and Spiderman in SoCal only for now.